Light Sheer Desire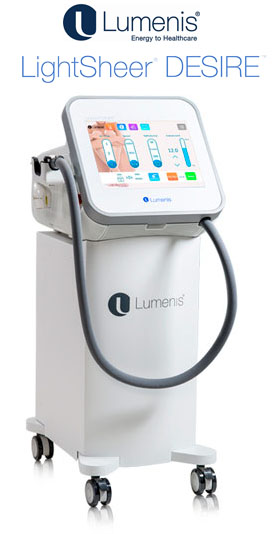 Lumenis LightSheer Desire is a diode laser, the newest invention of the American company Lumenis, which has become a real breakthrough in the field of laser hair removal. Unique technology of vacuum amplification High Speed provides absolute painlessness and comfort during the session. The working spot area of the handpiece (HS nozzle) is 22 x 35 mm, which significantly reduces the duration of the procedure (upper lip - 5 minutes, legs, back - 10 minutes). The use of the device is acceptable on all skin phototypes regardless of the season of the year. It removes not only dark hair, but also fair and thin. It is effective to remove ingrown hairs.
ChillTipTM contact cooling technology (XC and ET nozzles) with sapphire optics protects the skin from overheating and burns.
The device is equipped with three working handpiece with independent diode modules, which differ in the size of the working spot; the technology of influence and are used for treating different parts of the body.
ADVANTAGES OF THE LUMENIS LIGHTSHEER DESIRE
The wavelength of 805 nm is the "gold standard" of diode lasers, providing maximum safety for health
High Speed technology (HS nozzle) allows reducing the duration of the procedure (upper lip - 5 min, legs - 10 min.)
The vacuum module (High Speed technology) does not require contact cooling and use of anesthesia
No risk of skin overheating and burns
The procedure can be carried out regardless of the season
The procedure can be performed on any skin phototype
The full course is from 4 to 8 procedures
Portability: 32 kg
The diode laser ensures maximum approximation of the laser beam to the follicle; it requires a low energy density, which excludes damage to the epidermis.
2 HANDPIECES FOR ALL BODY AREAS TREATMENT
LIGHTSHEER ET
9 x 9 mm spot size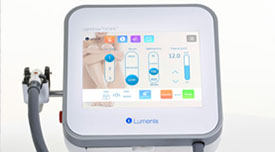 LIGHTSHEER HS
22 x 35 mm spot size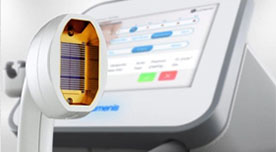 RESULT
Having done the procedure of laser hair removal using the innovative diode laser Lumenis LightSheer Desire, you become the owner of a smooth, beautiful and healthy skin. In addition to removing unwanted hair, the laser exerts anti-inflammatory, antibacterial and anti-aging effects on the skin. Laser hair removal is the only effective technique to get rid of ingrown hairs.
During the course of laser hair removal, with each subsequent procedure, you can see the hair reduction and growth retardation; the remaining ones will become lighter and weaker. After the end of the full course your skin will get the desired smoothness for a long time; but 1 - 2 times a year it is necessary to do a supporting procedure. And of course don't forget about contraindications.
CONTRAINDICATIONS
Oncological diseases
Diabetes (insulin intake)
Diseases of the immune system
Infectious diseases
Dermatological diseases
Pregnancy and lactation period
Surgical intervention in the epilated zone less than 3 months before the procedure
Fresh tan (less than 2 weeks)
Birthmarks
Varicose veins
Damage to the skin in the epilated area